How is it that a week off work can totally and utterly destroy you? Oh yes, I remember now – I have three kids and a wife (on maternity leave) who required a much-needed break from our three crazies.

I left work, said goodbye to my sanity and headed home. In 10 days I'd be back, sitting at my desk staring at a screen that doesn't have Paw Patrol on it. The plans and visions I had for my week off were modest to say the least i.e. have a breakfast every morning or have a shower without Thing 2 coming in and launching a bar of soap at me. Simple things indeed, but not too simple as it turned out.

I walked through the front door to be greeted by my beautiful darling wife (I have to say this of course, as she reads these weekly articles). I say greeted but wifey merely opened the door to me. What greeted me were two hyperactive pre-Halloween ghouls and one 14-week-old Lucifer baby. Plans.  Ah yes, plans. I knew in that exact moment that I could put any pre-conceived notions that I had for 'my' week off into a box and throw them in the fire. They'd go up in flames just like my week (granted I did have my breakfasts). Boom, there they go.

My beautiful darling wife is currently on maternity leave so needless to say stress levels and exhaustion are set to max. I knew that I'd essentially be the hired hand for the week and I was OK-ish with that. Cue Saturday morning, I was left to look after my three little treasures while wifey headed out for what I hoped would be a short stint in the shops. It wasn't.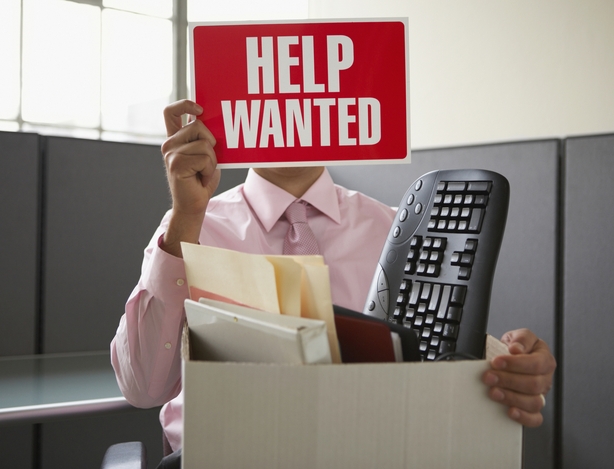 Things started out well. I took out the PlayMobil for Thing 1 & 2 and waffled to Thing 3 as only a goofy Dad can to a 14-week-old. An hour later I gave Thing 3 a bottle. He fell into a milk coma within 20 minutes so I popped him down for a nap and genuflected on the way out of his room in the hope that he'd sleep for a few hours. I must have genuflected incorrectly because he was up 20 mins later in full screaming mode. Bliss.
I knew that I'd essentially be the hired hand for the week and I was OK-ish with that.
While this was going on our now 3-year-old aka Thing 2 who is being potty trained – or rather he's training us in the art of giving in and continuing with nappies – proceeded to pee in his clothes and tap-dance in his socks on the yellow pool that lay under his feet. I immediately launched my SOS call-a-friend and Dad, who was out cycling, said he'd knock in for a cuppa. I needed to prioritise, screaming baby or Gene Kelly. I chose the former.
I lifted up the stinkiest baby that ever was and placed him on the carpet. I was sure to breathe through my mouth the whole time but as I opened the nappy what met me was like something from our local Indian takeaway. I nearly passed out. Meanwhile Gene Kelly had stopped dancing in his p**s and was now demanding fresh clothes and new socks. I was demanding new children.
I immediately launched my SOS call.
The doorbell rang. It was Dad. Aka Bungee Cord. As I was changing Thing 3 I lifted my hand up to direct Thing 1 to open the door for 'papa'. As I moved my hand back, I instinctively rubbed my cheek (face cheek that is) only to realise that I had sh** on my index finger and I had smeared it on my cheek. I looked like something out of Dances with Wolves. Papa came through the door in full fluorescent cycling gear, the colour almost matching Thing 3's nappy contents. I immediately instructed him to run upstairs and grab a change of clothes for the tap-dancing lunatic.
I lifted up the stinkiest baby that ever was and placed him on the carpet.
Within three minutes calmness was restored. Thing 3 was placed on the play mat, Thing 1 & 2 were happily sitting down watching Ratatouille (v. good btw), I had washed my hands and Dad made the cuppas.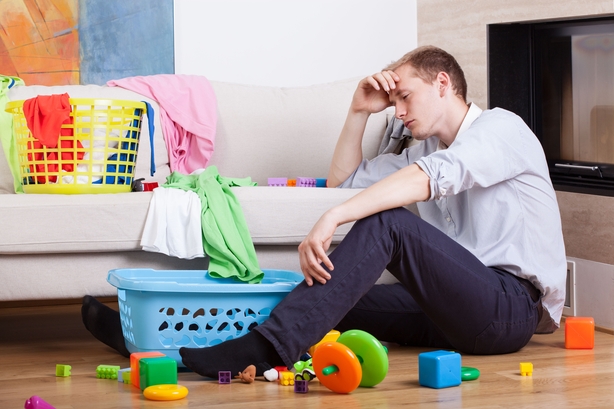 My wife had only been gone two hours at this stage but it honestly felt like an eternity. It turned out that she'd be gone for a further 3 hours and it was during this time that I was able to reflect on just how difficult and sh*** it can be – quite literally – staying at home and minding three little people.
Men can give women a hard time for 'staying at home with the kids' but in all, honesty I'd swap it in a heartbeat for work. I just couldn't do it. As much as I love my kids, I'd go crazy if I had to mind them all day long.
As wifey came home, she was greeted by a very happy, very grateful and VERY clean husband who would no longer crack jokes about 'relaxing' at home while I headed off to work.
Relaxing it definitely isn't.
Any comments?
DD
Catch me on: Facebook | Twitter | Instagram | e: digitaldaddiary@gmail.com