Dear Big Person,
Thanks for taking on board some of the issues I mentioned in my last message. Your stale breath has slightly improved and I'm glad to see that there were no 'nappy nugget' incidents last week.
While I lie on my back I have a good deal of time to ponder about things so I've put together a few more bugbears that I hope you'll be able to help me with…
1. Can you remember to clean in between the creases of my chubby legs. I found a raisin in one of them yesterday. At least I think it was a raisin, same colour but 'twas very very soft.
2. That long necked thing that you guys call Sophie, any chance you could get it to stop squeaking? I'm continually biting it but it won't shut up.
3. Heads up that when Mummy tells you that she didn't know I had a 'pooey' nappy, she's lying. She often sniffs down there, calls you and then pretends to get a phone call from somebody important.
4. I may only be starting to rollover but I'm no fool. Just because you turn over the mattress doesn't mean I can't still smell the vomit.
6. Speaking of rolling over, those Lego pieces are a bit hard on these young gums. It might be advisable to move them out of my way. I'm happy enough with the stale Liga I randomly find under the couch however.
5. Mummy has mentioned this to you several times but can I remind you to use the vests from the top drawer rather than the bottom drawer which are now 3 months old.  My bum isn't meant to squeak every time I move and I'm sure my 'wiggly thing' is meant to have room to wiggle.
7. NO NO NO. Don't ever put one of those winter snow suit thingys on me again. They look ridiculous and we don't live in the arctic. I'll be the laughing stock of crèche. Lilly with the one tooth has already had a snigger.
8. You might want to get the floorboard fixed. I hear it every time you try to sneak out of my room. I keep screaming at you but you don't seem to understand.
9. If you can't be bothered to cut my nails then face the consequences. It's not my fault.
10. Same goes for Mummy and Thing 2's hair; if it dangles I'm going to grab it. Get me some better toys and I might not be so entertained by their screams.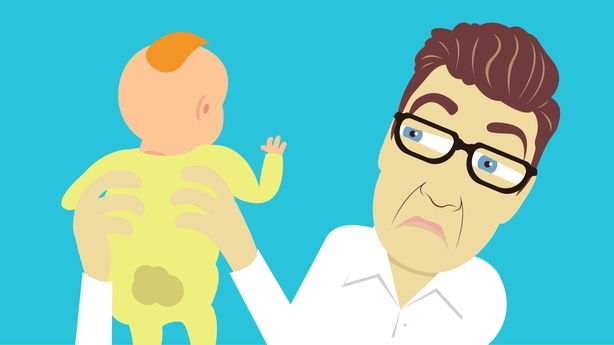 11. Any chance of a bonjela drip? These gums are killing me.
12. That activity centre gives me a right old wedgie. Best not to put me in it until my feet actually touch the ground.
13. Don't mind Mummy, I've no issue with staying in my pyjamas all day. I'm happy to follow in your footsteps.
14. If you don't like seeing the spaghetti race down the wall then stop moaning and move my feeding chair away from the walls.  What did you expect?
15. I've never seen you eat with a shovel so can you do me a favour and revert back to using the small spoons when feeding me. I'm starting to look like the 'The Joker'.
16. Sippy cups? Sippy cups? Honestly how old do you think I am? I've only just mastered the full fist in mouth, give me a few weeks will ye.
17. I know I take an age to eat my dinner but when it goes cold could you heat it up again? I never see you tucking into a cold Sheppard's pPe or Bolognese?
18. Do you know how unnerving it is to know that somebody is staring over my cot while I'm pretending to be asleep? If you really need to do it then go to Dublin Zoo.
19. Don't you love when somebody puts a clothes peg on your nose? No I didn't think so, so will you relax when wiping my nose and 'squeezing' every last big of gunge out of it.
20. Nappy rash is bad enough but stubble rash is just taking the piss. Please shave before you insist on kissing me.
Thanks. Thing 3 xoxo
Like what you've read? Follow me on Facebook | Twitter.
Get in touch: Facebook | Twitter.
---