Dad of three. Husband of one. Master of None. All opinions are my own unless my wife tells me otherwise. 
From Happy Meals and Olympic events to Febreze and 'bags within bags', here are a few parental learnings from the past month.
1. As far as my kids know, Happy Meals come with 5 nuggets.
2. There's nothing like going out for lunch with your kids to remind you never to go out for lunch with your kids.
3.  Anyone who says that seeing their child enter the world was the 'best moment of their life' has clearly never had two bars of chocolate fall at once from a vending machine.
4.

1st baby: "Can he have this?

"Hmm let me check the salt and sugar content. Is it organic?

2nd baby: "Can he have this?"

"OK but just a little bit"

3rd baby: "Can he have this?"

"Yes he can have anything as long as it's not alcohol or drugs.
5. It's not that I hide in the bathroom per se, it's just that I sit down and if nobody needs me I stay there.
6. If there is ever an Olympic event for kids who use a new cup every time they want a drink of water my kids would win gold.
7. The longer you're a parent, the harder it is to get excited when people tell you they're pregnant.
8.

"They're just at a really difficult age right now"

Translation:

*They're little sh**s and they've been like this now for years. I just don't want to admit it.*
9. Have kids if you enjoy slipping on ham, using a chisel to remove Weetabix and waiting four hours for them to zip up a coat.
10. If kids are required to do homework it should be practical stuff like cleaning their room, helping their parents to cook, learning to tie shoelaces etc.
11. My 4yo struggles to find shoes that are in front of him, but he can spot a sliver of onion in a bowl of rice from 10 foot away.
12. I wish I loved something as much as my toddler loves touching his privates. Oh, actually…
13. One of the hardest parts about doing laundry is resisting the urge to feck it all in the bin.
14. One of the hardest parts about parenting is resisting the urge to punch them in the face. (Joke, obviously).
15. You're never more needed and more ignored than you are as a parent.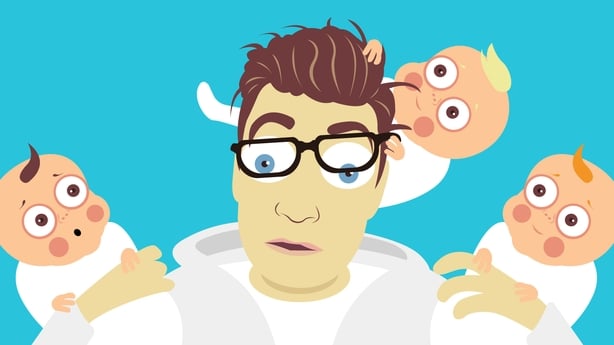 16. If they're old enough to critique what you make them for lunch they're old enough to make it themselves.
17. Febreze is the only fragrance I use these days.
18. My 4yo told me yesterday that I ruined his entire life which definitely makes him his mother's son.
19.

4yo: "Dad, when will I be a grown up?"

Me: "When you have a drawer full of grocery bags within grocery bags and a bag full of new and used batteries"

6yo: "Huh?"
20. Putting post-party kids to bed is fun if you have two and a half hours to kill.
21. 65% of parenting is feeling guilty about throwing away school work.
22. 5% of parenting is finding ways to throw away said schoolwork without your kids finding it.
23.

6yo: "Dad, can we go to Burger King?"

Me: "Maybe at the weekend but only if you can spell it for me"

6yo: "Ok….Actually let's go to KFC instead".
24. I banned my kids from screen time yesterday so that we could all have a miserable day. It worked.
25. Pre-kids: "Oh hi. Come on in".
Post-kids: "Oh hi. Come on in. Please excuse the mess and ignore the smell".
26.. If I had a euro for every time my 4yo (and my wife) didn't listen to me I could buy a lot of wine. *
DD
---
Find me on Facebook | Twitter | Instagram 
---