Thing 2 will be four in October and to look at him you'd think he came off the set of Point Break (think Bodhi). He has a blond curly mop of unkempt hair – unlike me but very much like our postman – that can at times obscure his vision but damn he's a cutie.
Lately, however, we began to feel like the lack of grooming might be cruel as the constant brushing of his fringe away from his eyes made him look like he was constantly saluting us. I would always salute back.
I had planned to take him to my barber aka. the ten minute €10 haircut which has served me well for many a year – "short back and sides and leave the Jedward fringe please". Our five-year-old now goes there too and like me, he's in and out in a jiffy.
Thing 2, however, is a different beast. He's more stubborn. He's crankier. He's more of a live wire. He's Bodhi, a law into himself. As he gets older I'm hopeful sure he'll mellow but to bring him to the barber would be a stretch too far for this cowardly dad…I just didn't need the hassle or the stress.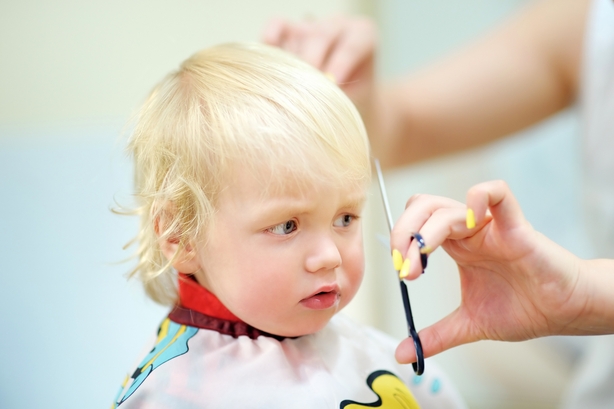 I had promised my darling wife that I wouldn't give him a home cut but while the cat's away, or rather at a yoga class, I decided to get the scissors out and strategically sheer him.
I had only ever done a home cut once before and although Thing 1 did end up looking like a Benedictine Monk I was convinced that I could do a better job with a lighter wavier head of hair. I was wrong.
A few snips here and a few snips there and everything seemed to be going swimmingly. In between chats about Paw Patrol and Mike the Knight we also played 'I Spy' until my 'I Spy' challenge resulted in Thing 2 shouting "the floor" and rapidly moving his head downwards.
Now while he got the answer right ("I Spy with my little eye something we stand on") he also managed to lose half his fringe…the vertical half. I gasped. Half a floppy fringe and half a spiky scalpy fringe…no comb-over in the world was going to fix this atrocity. Bodhi was now long gone. What sat in front of me could only be described as a cross between Donald Trump and Flock of Seagulls.
As my adrenaline kicked in and Trump Seagull stared up at me I started to panic. Fine, the hair would grow back but my wife was going to be home soon so I was unclear what was in store for me.
It took a few days before we could make proper eye contact with Trump Seagull without cringing (thank god I collect trucker caps) and another few days for me to acknowledge that my sheering days were over.
My claims that it would have been easier if we had had a girl because it would be a simpler straighter cut (I was talking pure sh**e), fell on deaf ears.
To non-parents, this may not sound like a big ordeal and in the grand scheme of things it isn't. The thing about cutting your child's hair is the first unbearable 'half fringed' glimpse of them as a non-baby. We had waited 3 years and now he was a no longer our helpless little dude.
He has been shorn – had you seen him you might even say 'branded' – he is more grown up, more expressive, still cute but less cuddly. He is more Wall Street than Sesame Street.
I haven't touched a pair of scissors since but we do have another son so third time lucky, who knows? In the meantime however the full salute has been reduced to a half salute and I continue to pray for the welcome return of Bodhi.
DD
---
Catch me on Facebook | Instagram |  Twitter | digitaldaddiary@gmail.com