It's bad enough, but acceptable, that a baby poops its pants but to avoid you doing the same, here are a few of my tips to keep you clean and turn you into the ultimate parenting machine.
1. Try to avoid becoming 'Flatpack Jack'.  
I was practically renting out a room in IKEA prior to Thing 1's arrival. The amount of crap that I bought, 'built' and didn't use was ridiculous (it turned out to be good firewood, though). Yes, changing tables are great, but sofas, sitting room floors and kitchen counter tops are great too and SO much more convenient.  My three boys all got changed on the floor. Shock-horror.
As a general rule of thumb, the stuff that's fun usually isn't necessary.
2. Don't let her rush home from the hospital.
Hospitals have doctors, nurses, and room service. Houses have dirty plates, dirty laundry, and an unkempt man. The longer she stays in hospital the better it is for you…..Believe me.
Things will never be the same again once baby and Mum get home. Ever…Believe me.
3. Breast may be best, but formula is fine too.
Some women feel guilty for not breastfeeding. Sometimes it's just not meant to be, so support her and remind her that 1) formula is fine 2) she is fine and 3) your baby will be fine.
The downside, of course, is that you'll be roped into nightly feeds but on the upside, you'll have more bonding time with your kid (even though they can't talk to you, they won't understand you, and they'll get sick all over you).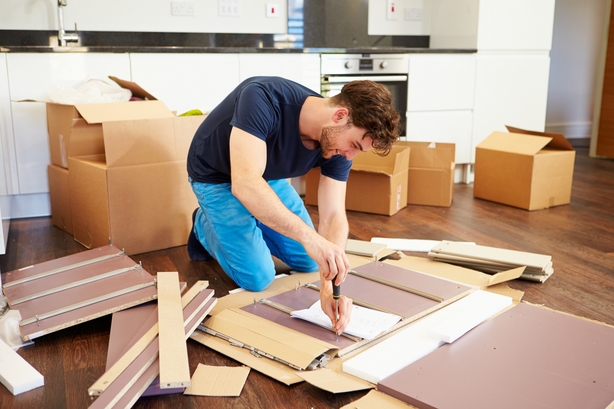 4. Accept all babysitting (and cooking) offers.
They'll come thick and fast at first so accept as many offers as you can (lads, this can mean no cooking for a few weeks). People love babies and will be delighted to help you out so that you can grab a shower, take a nap, run away, cook a meal, contemplate your new life etc.
Minding a newborn is easy. Minding a 2-year-old not so much (bye bye offers). So take people up on all of their offers as they have a very short shelf life.
5. Point the willy DOWN.
Otherwise, you risk a leaky nappy or an unannounced shower. I've learned this the wet way…more than a couple of times.
DOWN. This advice is gold-en.
6. Don't do what my Dad did.
There are two straps on a nappy so don't end up with a Bungee Cord Nappy.
7. Scale back on the infant clothes.
Okay, I understand the compulsion (usually the mothers) to stock up on multiple versions of the same thing but lads, slip that card back into the wallet/purse and put the kibosh on it now.
People will give you lots and lots of clothes. Kids grow at a Formula One pace so don't even take the tags off clothes until you absolutely need to because it's probable that you'll regift some of them.
Children, like adults, will end up wearing 10% of their clothes 90% of the time. They are dressed by adults after all.
8. Resist anything with thousands of snaps or buttons.
Snaps and buttons are the devil. The more you have to snap, the quicker you'll snap particularly if you're changing your wet, stinky baby at 4 in the morning. Go with elasticised trousers/pull-ups for the first few weeks.
You can thank me later.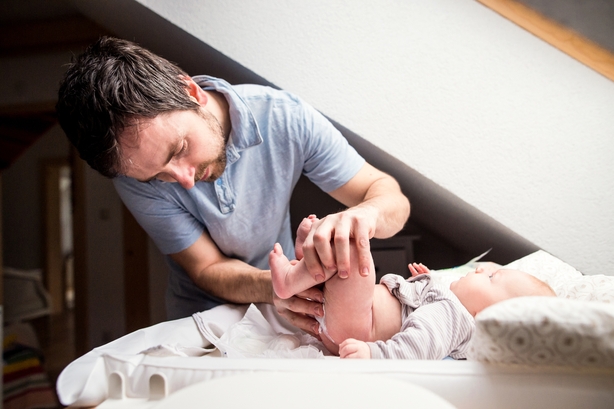 9. Keep an emergency nappy and changing gear in the car.
Be prepared. S**t can quickly hit the fan. Backup nappies, clothes, wipes and scented nappy bags are all essential…particularly the latter unless you have a few gas masks handy.
10. Be Clark Kent.
No matter how many 'How To Be A Parent' videos you've watched on YouTube, drop the act and ask for help when you need it. Parents, relations, friends, and strangers – particularly elderly women in shops, as it turns out – will be only too happy to help you even if it is out of pure sympathy.
You're not Superman. Sure I nearly had to call the AA the first time I tried to put our Bugaboo together.
11. Be the master of 'Yes'.
Master your 'yes dears', 'no problem love', 'absolutely love', 'you look great dear' and most importantly 'you are doing a great job dear'. Your job is to keep everyone sane and emotionally happy.
This is gold I'm giving you here. Gold.
12. Try To Enjoy it.
It's exhausting, it's stressful and it's hard but when you see how quickly your little one changes, you'll wonder where the time went. The first few months are the easiest –bar the sleep deprivation – as you essentially have a non-moving chirping Burrito in your house.
When Thing 1 was born I didn't know how I'd cope but five years on and three kids later, one child just seems like a doddle.
The only constant is that everything keeps changing so get used to it and enjoy each stage.
You're welcome.
DD